E.A Federation Sensitization Under Way
by Phionah Kesaasi
(Kampala Uganda)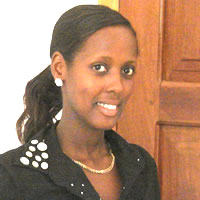 Efforts are underway to sensitize the East African population about the benefits of fast tracking the East African Federation. This was revealed by the Ugandan representative in the East African Legislative Assembly (EALA) Beatrice Kiraso.
"The issue of the East African Federation needs to be continuously talked about to enable our people appreciate long term benefits,"
Due to the heads of states' commitment to keep a people-centered and private sector driven integration, they directed that the sensitization of the people of East Africa and subsequently consultations be carried out to seek people's views regarding the integration in general and political federation in particular."Kiraso stressed.
Political federation is to be preceded by three consecutive stages the customs Union, Common Market and the Monetory Union.
Also present was Mr. Peter Kiguta the Director General Customs and Trade who highlighted the importance of the customs Union, "It is a very important stage; a spring board on which the integration is going to be built upon therefore making it work is very important".
Mean while Southern Sudan has applied to join the East African Community (EAC), exposing its desire to secede from the Khartoum government even before running through a Comprehensive Peace Agreement (CPA).
"Southern Sudan government has applied to join the EAC, but the EAC treaty considers only applications from sovereign states not semi- autonomous,"
"Some the reasons cited is that much of their economic life is dependent on the EAC member states as their traditional trade partners and use of the sea-ports."Kiraso revealed.
The Salva Kiri led semi autonomous government of southern Sudan has of recent accused Khartoum of violating a truce (CPA) they reached ending over two decades of war, pitting the Arab north against the largely none Islamic blacks in the south.
Among the salient features of the Kenya brokered CPA, Southern Sudan will be allowed to choose whether to remain united with Khartoum or choose to break away forming a sovereign state in a referendum.
Kiraso also revealed that Uganda desires to have the Democratic Republic of Congo (DRC) to join the EAC, a neighbor state bordering three EAC land locked states: Burundi, Rwanda, and Uganda.
"We are interested in getting DRC join the EAC, because it is one country the region shares lot in common, especially trade and the sea-ports," Kiraso said. "Soon contacts with DRC will be made."
A summit of the five EAC leaders will be held on Thursday in Rwanda's capital Kigali focusing on urgent need to embark of implementation of the regions infrastructural development, and energy production.