Enterprises and Marketing of Rattan Products in Ghana and Togo
by Chhote Lal Chowdhary
(Kathmandu, Nepal)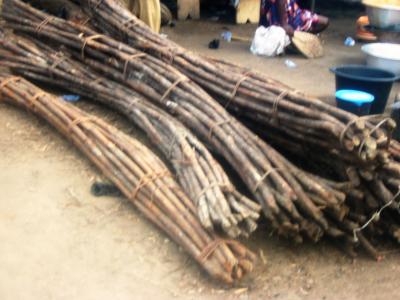 Harvested rattan for processing
Rattan is also called cane, which is one of the non-timber forest products (NTFPs). It is spiny climbing plant with high economic potential for rural livelihood. Out of the 13 genera and 650 species found in the world, Ghana and Togo have about 12 species. Due to its highly flexible and market value including alternative to timber for furniture, rattan is most popular NTFPs to process varieties of interior decorative products, daily used items and small constructions.
The study conducted in four major cities of Ghana and one of Togo, and two harvesting sites of Ghana from November and December 2007 shows that there are 308 (277 in Ghana and 31 in Togo) rattan processing enterprises are there. There are two types of products – basket and furniture in the processing enterprise. Average annual production of basket is 637,220 including small, medium and large size; and 30,576 furniture which includes rattan furniture sets, bamboo furniture set, TV stand, book case, sleeping bed, baby cot. Out of the total basket produces, marketing centers of Ghana produce 618,420 and Togo 18,800 annually.
Similarly, the 26,112 and 4,464 furniture sets are produced in Ghana and Togo annually. Raw rattan is harvested from reserve forest, off reserve forest, farm off land and community land in Ghana. There are two major species such as Mfea (Eremospatha macrocarpa and Willow (Laccosperma secundiflorum used in the rattan species. Of the total consumption of raw material, 70,000 bundle of rattan are used per annum by rattan processing enterprises. The processing of raw rattan throughout much of Ghana and Togo is undertaken manually.
All the processing centers are headed by master artisans. About 30 percent processing center are managed by master artisan and associate artisan are same. In Ghana almost 99 percent processing centers and marketing centers are located under the tree and near by open road side. Total market value of finished products is 12.65 million US $, out of which value of basket contributes 2.1 million (17.21%), and furniture items 10.48 (82.89 %.) million US $. Among the baskets, small size basket has largest market where larger size basket has smallest market.
The analysis showed that rattan enterprises were established some 10 to 30 years ago, however they are not systematically running yet. In Ghana, about 99 percent enterprises are located under the tree and open place near by the road, and Togo some about 60 percent rattan enterprises are set small hut or rented houses and remaining in under the tree, but they do have the separate small store room. All the enterprises are headed by master artisan, either single person or associate artisan. Most of the processing centers or market places are dusty, muddy, sunny and unhygienic
Baskets processing is common in most of the rattan processing centers. Most of the designs were copied from catalogue of French type. Some modifications have introduced in the basket designs based on the experiences of artisans. Previously rattan weaving basket was most common practice, which are replaced by rattan and plywood. Plywood is used in the bottom of the basket, which reduce the use of rattan and increase the efficiency to produce more number in short period. Comparatively use of plywood is more common in Ghana than Togo. Most of the new artisans do not know the name and design of basket, although they prepare in their processing centers. There is very less practice in adding value of baskets by color and finishing material. Rattan baskets are weaved with grass in Ghana.
The rattan sub-sector employs basically men as an artisan and women as manager (mainly in Togo). The Ghanaian rattan and bamboo sub-sector employs directly about 700 people (643 in Ghana and 57 in Togo).
There are 4 major types of actors involved in the rattan value chain: 1) Harvesters, 2) Wholesaler or supplier, 3) Processors or artisan, and 4) Consumers. All the people involved in rattan processing enterprises are categorized into skilled labour. Skilled labour involves 700 artisans, 4 wholesalers and more than 80 harvesters in rattan sub sector of Ghana and Togo.