Sports Gambling Takes Kampala by Storm
by Phionah Kesaasi
(Kampala Uganda)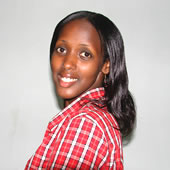 East African Business Week (Kampala)
It is 10.30 am, as I enter Mukwano shopping centre in Kampala's central business district, I am fascinated by the slogan "You Bet- we Pay."
The place was full of life as people moved up and down purposefully. Many of them had their eyes glued on the screens watching the replays of different English Premier league football matches while others surfed their way into the nitty gritty of their sports interests.
I get to the reception where I was warmly welcomed by the front desk manager who promised to get me to the chief executive officer in a few minutes. I was soon ushered into the office of Mr. James Simon Mpanga whom I later learnt was the chief executive officer of Sport Betting Africa (SBA).
The preparations that gave birth to the SBA started in 2006 and on August 2, 2007 Sport Betting Africa (SBA) was launched. To explain why it took so long to bear fruit, Mr. Mpanga said, "It is a huge operation which needed a lot of preparation both financially and administratively. It required professionals to man the sophisticated technology used in the game. It took Ush2 billion ($1.18 million) as initial capital.
Uganda becomes the second African country to invest in Sport betting after South Africa. Over the years the love for soccer has grown amongst fans across the continent.Sports Betting Africa
U
Ltd is located along Ben Kiwanuka Street adjacent to Centenary Bank. When one visits SBA, they are greeted by six giant plasma screens over which clients (gamblers) watch the football matches. There is also a big bar and large table with slot machines where clients bet.
Gamblers add quality to chance by surfing the Internet free of charge to better their chances of winning the game. There are three notice boards on which pictures of winners are placed.
Because of the different matches and leagues preferred by the participants, seven different football matches can be shown at ago with each screen connected to a service provider that is relaying the match.
At the time of my visit, the interior walls were covered with English Premier League and Spanish La Liga betting charts and the screens featured Manchester United and Manchester City replays.
Fans and fortune seekers of all walks of life eager to get a quick buck bet on a team they think/believe will win the match. If one wants to bet, they first look at the chart and see how big the multiples placed on each of the teams to be betted on is. Whats more the game has no gender divide.
How to play
To play, a contender obtains an applicable fixture list for the 1X2 game and considers how each of the 12 pre-determined fixtures will end. The player must play a minimum of two board games for Ush300 ($0.17) each. One marks (1) for a home team win, an (X) for a draw and a (2) for an away win.
The higher the probability of a team to win, the less the multiple and the reverse is true. The statistics and rules of the game are easy to understand by anybody who finds their way into this betting centre. He says that SBA has enough money to pay if one wins a bet.
"We have invested in this business and so far we have given out 170 million shillings to 70 winners in prizes since August, and we therefore have enough money to pay for any bet," he says.
It is very hard to determine the number of customers because it keeps growing daily. The club has 1,000 registered members including well-placed people while the unregistered ones are five times bigger. These members mainly bet from the 200 betting shops dotted all over Kampala.
According to Mr. Mpanga, their club has Very Important Persons (VIPs). These are privileged members who bet in private using their phones from their work places and homes. "They don't have to come here," he says.
One must prove that they can bet above 50,000 shillings regularly (2-3) times a week. "It is a young operation; we feel that it has high potential for growth," Mpanga says. Despite the presence of other players in the market, SBA is not wary of the competition.
"We are one of the few betting places in Uganda that are authorised by the ministry of finance; we pay winners on the same day so they don't have to wait. It is very unique from other betting shops in the country.
We confirmed that we are credible, because we don't play gimmicks and don't cheat clients," says Mr. Rifat Alghawi one of the project directors with Editec, a European Lottery Technology company and one of the investors with SBA.
Says Alghawi: "We have a high reputation to look after; we have been in business for 25 years which is a long time. There is modern and comfortable technology which does not leave room for error."